Learn more about Dentures and request your appointment below!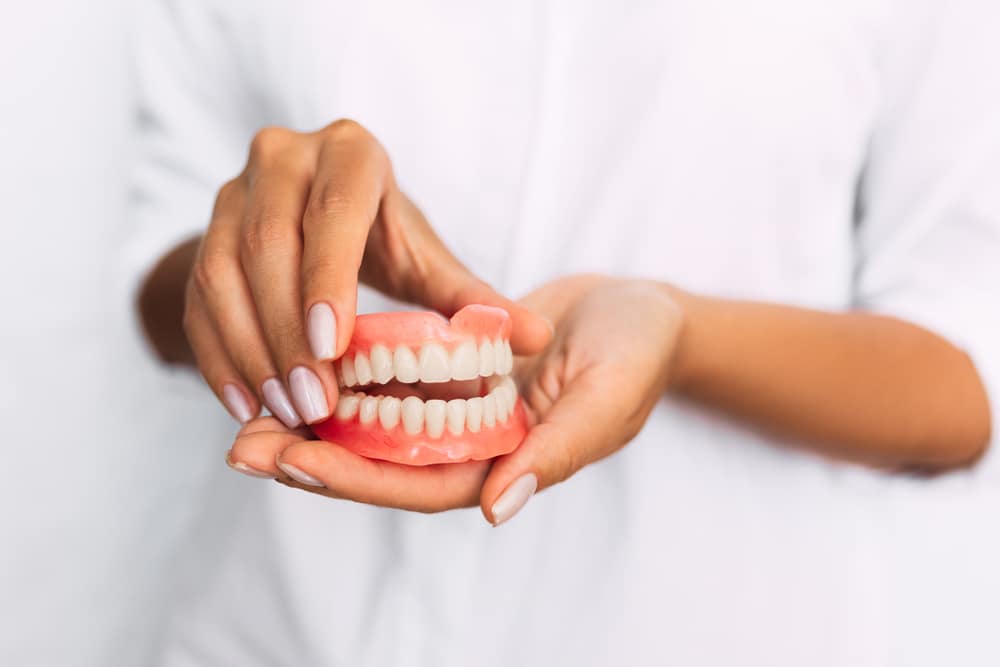 If you have lost teeth due to diseases, accidents or poor oral health, you may be able to replace them with dentures. Dentures are natural-looking replacements for your teeth and gums. They are a custom-made and comfortable remedy to partial or complete teeth loss. 

Made from hard-resin, porcelain or plastic, dentures have supporting structures that hold the artificial replacement in place. Together, they improve your smile, allow for easy chewing and maintain the structure of your mouth, cheeks and lips.
Depending on your dental needs, we may recommend one of the following kinds of dentures:
If you have lost teeth, contact us today to learn more about your options with dentures.
After the initial consultation with your dentist, a perfect impression is made of the alveolar ridges on the top and bottom of your mouth. The base of the denture is made from this mold in a dental laboratory. Working together, the dentist and lab technician choose from among many different sizes and shapes of prosthetic teeth to re-create a natural-looking smile. When the results are satisfactory, the temporary dentures are made in permanent ones.
To allow for normal speech and eating, it is imperative to balance your bite. This means that the upper and lower dentures come together and properly stabilize each other. The dentures' form and function are carefully checked to ensure that they are working and fitting properly.
Complete Dentures:They are also referred to as full dentures. If a patient has had all left out teeth extracted, complete dentures may be a good alternative. These dentures are customized to fit a complete set of either top or bottom teeth that have been extracted. Complete dentures can be removed at night for cleaning and sleeping.
Partial Dentures:They are used to replace several missing teeth and are fitted to the gum line and attached to the adjacent teeth. Partial dentures are not permanently fixed and hence can be taken out for cleaning and sleeping.
Immediate Dentures: These dentures are removable dentures attached on the same day of tooth removal. Immediate dentures are for patients who have had one tooth or multiple teeth extracted and are used to prevent a patient from going without teeth while recovering from the extraction.
Overdentures:They are designed to protect the remaining teeth around those that have been removed. They are fitted over a person's original teeth and can also be placed over dental implants if they do not have any natural teeth.
Implant-Supported Dentures:As the name implies, these dentures are fastened by dental implants. Dental implants are titanium posts that are placed into the bone. The denture may clip on and off the implants, which provide retention and support.
The dentures are a great alternative to provide you with a healthy and natural smile. They help restore both the aesthetics and function of the mouth. With an accurately fitting set of dentures, you should be able to bite and chew more normally and with ease. Dentures should restore one's ability to speak and pronounce words more correctly. Dentures can also safeguard your remaining teeth and allow a normalized use of the mouth and gums.
Call Dentist Ann Arbor, MI at Progressive Dental or schedule an online appointment to know more about Dentures.
We participate with Blue Cross Blue Shield of Michigan, Delta Dental, Guardian, University of Michigan Dental, Aetna, MetLife and we will submit to most other insurance companies. Call today and we would be happy to answer any of your insurance eligibility questions for your specific plan.
No insurance? No problem! Join the Progressive Dental Membership Plan.
Patient First Approach
Your first visit to Progressive Dental establishes a vital foundation for our relationship with you. During your first visit, we make sure to obtain important background information, like your medical history, and give you time to get to know our friendly team.
Welcoming Team
All our professionals at Progressive Dental maintain the highest levels of accreditation and pursue ongoing education to stay abreast of the latest trends in dentistry. We strive to to provide the highest quality of care in a relaxed and pain-free environment.
Payment Options
We are proud to offer CareCredit® for financing with many payment plan options to fit your budget. Call today to find out the latest offers or feel free to apply online by clicking the tabs at the top of our homepage.
We love hearing from our patients! Thank you to everyone who has taken the time to provide us with feedback. It means the world to us!
"Exceptional treatment. My dental hygienist was patient, knowledgeable and thorough. She listened and was very compassionate. The administration is very welcoming and accommodating."
"Love this office! Friendly and warm providers who really work hard to ensure patients are comfortable and also answer any questions thoroughly."
"Everyone at this office is so kind. I have found my permanent dental office. The doctor here is kind and insightful. Thank you for everything."